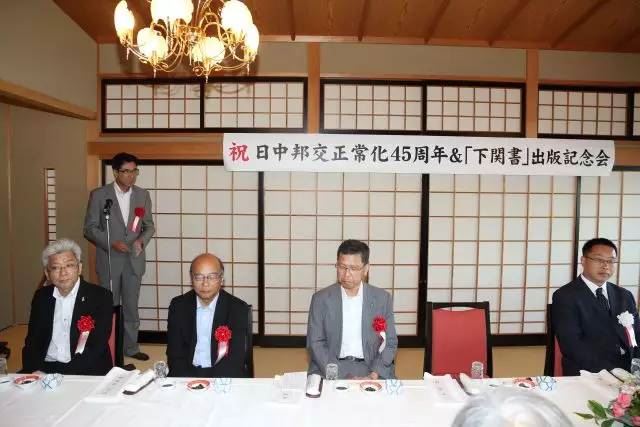 On June 2, 2017, Shandong People's Publishing House first released the new bookShimonoseki in Shimonoseki Japan successfully with strong local concern. Shimonoseki City Hall, City Council, City Hall Tourism Department, Kitakyushu Overseas Chinese Association, the author of the book Mr. Yan Xianhui and local television, Yamaguchi News, Ube Daily and other media representativestogetherparticipated in the new book releasing conference. The event had become another useful attempt of Shandong People's Publishing House exploring new publishing formats.
Before releasing the new book, Shimonoseki Mayor Maeda Shintaro and City Council President Tozawa Akio met with vice president of Shandong People's Publishing House Wang Lu, Mr. Yan Xianhui and his party.
They highly affirmed the importance of Sino-Japanese folk cultural exchanges and gave full appreciation toShimonoseki published by Shandong People's Publishing House. They thought that it would play a huge role in promoting the Japanese people to know more about China's publishing and the Chinese people to understand the Japanese social situation.They had full expectations on the Japanese version of the book. Wang Lu, vice president of the Shandong People's Publishing House, briefly introduced Shandong People's Publishing House and the publication situation of the book. He thanked thewarm reception of relevant parties in Japan and presented Shimonoseki and Water Margin Hero Cup which was rich in traditional Chinese culture as gifts.
Vice Mayor of Shimonoseki CityMiki Junichi and Vice President of the City Council Kameyama attended the new book release conference and addressed separately; Wang Lu,Vice President of Shandong People's Publishing House, gave thanks on behalf of Shandong People's Publishing House; Mr. Yan Xianhui introduced the creative origins and other situations of the book to Japan Shimonoseki book; Japan Kitakyushu Overseas Chinese representatives, Shimonoseki cultural representatives and other also sent blessings to the publications and releasing of Shimonoseki.
Japan's mainstream newspapermedia "Yomiuri Shimbun" first gave and promoted cultural news on headlines; Other important media of Shimonoseki such as Yamaguchi TV News Columns,Yamaguchi News and other medias also gave key publicity of the releasing activities of the book .
Title: Shimonoseki
Author: Yan Xianhui
978-7-209-10498-2
Time of Publication: May, 2017
Price: 45 RMB 170mm×220mm
Shandong People's Publishing House
Recommendations:
Shimonoseki, lying to the east of glittering Seto Inland Sea and west of the vast expanse of Japanese Sea, has always been the home of beautiful scenery and town of cultural prosperity. There are delicious puffer fish dishes, bizarre myths and legends, poetry trails once walked by Misuzu Kaneko as well as voiceless sound from China ...
The author expresses more than ten years' life experience in Shimonoseki, takes us into the picturesque scenery and leisurely history of Shimonosekiwith delicate strokes and sentimental mind and lets us enjoy a different Shimonoseki.