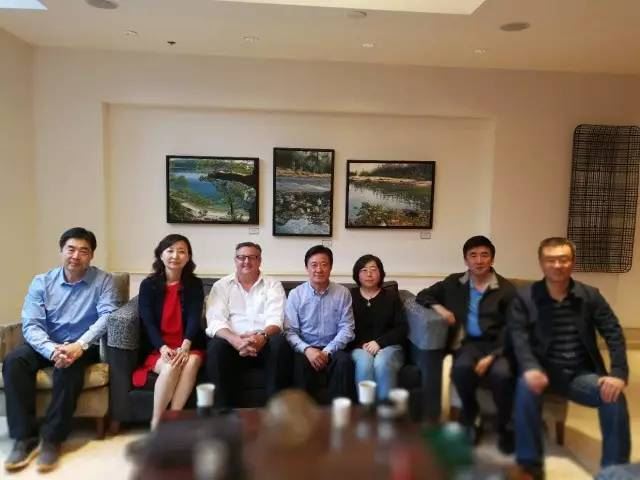 From 31st May 2017 to 9th June 2017, five-people delegation which headed by chairman of Shandong Publishing Group Mr. Cizhong Wang went to the New York Book Fair. At the same time, the delegation had a communication and signed the copyright agreement with Canada's New Academic Press.
During the communication with Canada's New Academic Press, Mr. Cizhong Wang mentioned that China and Canada have a close relationship,the cultural exchanges between two countries have become more and more frequent. Doctor Bethune traveled thousands of miles to China to help Chinese people around 70 years ago, he earned the respect from Chinese people with his superb medical skill and high personal character. Beijing had just successfully held the " Belt and Road Forum for International Cooperation " between 14th May and 15th May, Canada's governmental officials attended this forum. So we hope that the publishing industry between China and Canada will also have a deep cooperation during the period of Belt and Road Forum.
There are five books to export the copyright to Canada's New Academic Press, they respectively are " the Classic Book of Chinese National Treasures "、 " the Stories of Chinese Name and Title" 、" the Stories of Chinese Old Guild Halls"、 " the Archives of Chinese Naval History "、 " Chinese Banquet : the study and application of Man-Han Banquet ". In addition, there are extra 8 books like " Stories of Famous Pavilion in China "、 " Calligraphy Remarks " which exported to the country of Pakistan、Turkey、the Republic of Belarus and Vietnam national presses with the version of Urdu、Turkish、 Byelorussian and Vietnamese.
Vice-general manager of Shandong Publishing Media Co., Ltd Mr. Jie Gong、general manager of Shandong People's Publishing House Co., Ltd Mr. Changqing Hu and general manager of Shandong Publishing Foreign Trade Co., Ltd Mr. Tie Shen attended this signing activity. Vice-general editor of Shandong Pictorial Publishing House Co., Ltd Ms.Jisheng Liang signed the publishing agreement.